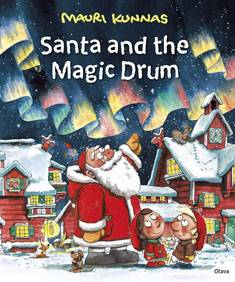 Alkuteos: Joulupukki ja noitarumpu
ISBN: 9789511247272
Kääntäjä: Timo Tepponen
Julkaisuaika: 2010
51 sivua
Kuvitettu
Kirjastoluokka: 85.25
Mauri Kunnas Santa Claus And The Magic Drum – (Joulupukki ja noitarumpu) Odd things are happening in Santa's village with Christmas just around the corner. Who peppered the cookies? Who switched off the Northern Lights? And why has the computer come down with a virus just when Santa Claus was about to solve his most vexing Christmas gift problem? The last of the Christmas list letters have just arrived by plaen at Santa's village. Among them is an odd doodle on strangely yellowed paper. It's signed "Rascal," but what is it supposed to depict? Santa and the elves simply can't make it out. So Santa asks all the master elves to create their own versions of Rascal's wish. Preparations for Christmas Eve are progressing apace, but not everything is as it should be. Someone is pestering Santa Claus. Who can it be? And what in the world for? Mauri Kunnas again invites you to join the fun – this time on a rollicking yuletid adventure! Mauri Kunnas's books have been translated into more than 25 languages.