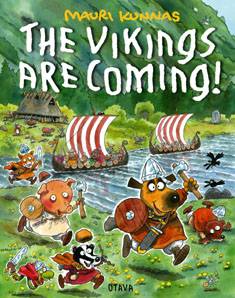 Alkuteos: Viikingit tulevat!
ISBN: 9511214462
Kääntäjä: William Moore
Julkaisuaika: 2014
51 sivua
Kuvitettu
Kirjastoluokka: 85.25
Here come those marauding Vikings and their flaxen-haired maidens! The wild reputation of the fearless seafarers of Scandinavia was known along the English coastline already in 793 AD, and even now the stories of their exploits and adventures thrill children and adults alike.
Illustrator and storyteller Mauri Kunnas serves up eight wild and wacky Viking tales in the spirit of the old Norse sagas. We meet a host of heroic figures, including the boastful Gunnar Goatfiord, Berserk Erik (Now Don't call me Mama's Boy!"), the smart young Viking girl Catla, and a homesick brown cow named Buttercup.
Get your helmet, and come on the adventure of a lifetime! At the same time the book contains accurate historical information on the life, customs, beliefs, boats, and homes of the Vikings.